I considered changing the name of this post series, because to me as much as it is outfits that are inspired by my favorite characters, when I'm coming up with these outfits I actually picture the characters wearing the clothes. In my mind, these are more or less the outfits that I imagine them in.
Last time I did Violet and Sunny Baudelaire from Lemony Snicket's A Series Of Unfortunate Events. This time, I'm writing about my top three female characters from the Harry Potter saga. These particular ladies, are my favorites because I relate a lot to them. Ginny Weasley, Luna Lovegood and of course Hermione Granger.
I see a
LOT
of myself in Ginny. People who haven't read the books and have only seen the movies, don't always grasp this concept of her. But Ginny is a really funny girl. She's upbeat and she has a very uncanny way of imitating others. She has a sharp sense of humor and knows how to stand up for herself and others, in other words, she doesn't take crap from anyone. She's also very strong and feels comfortable with the guys (as friends) because of her growing up with her brothers. And last but not least, SHE LOVES CATS! I myself posses all these qualities (wow, that sounded stuck up!), so naturally she's high on my list!
Ginny Weasley
Ginny is described as being laid-back, down-to-Earth and like I said before, she's upbeat. So, I chose a simple white Oxford style shirt which I layered beneath a very cute polka dotted, navy sweater from American Eagle. I added a pair of corduroy pants in a nice burgundy color for contrast. Navy + burgundy = perfection! A pair of Converse tennis shoes because you know, she's the tiniest bit of a tomboy sometimes! I thought that I would also add these kitten-shape earrings because they represent her love for cats and they were too darn adorable to ignore! Oh, and the broomstick is a Firebolt, I don't know if Ginny ever owned a Firebolt but I do know Quidditch was a HUGE part of Ginny's life. She ended up playing professionally for the Holyhead Harpies, you know!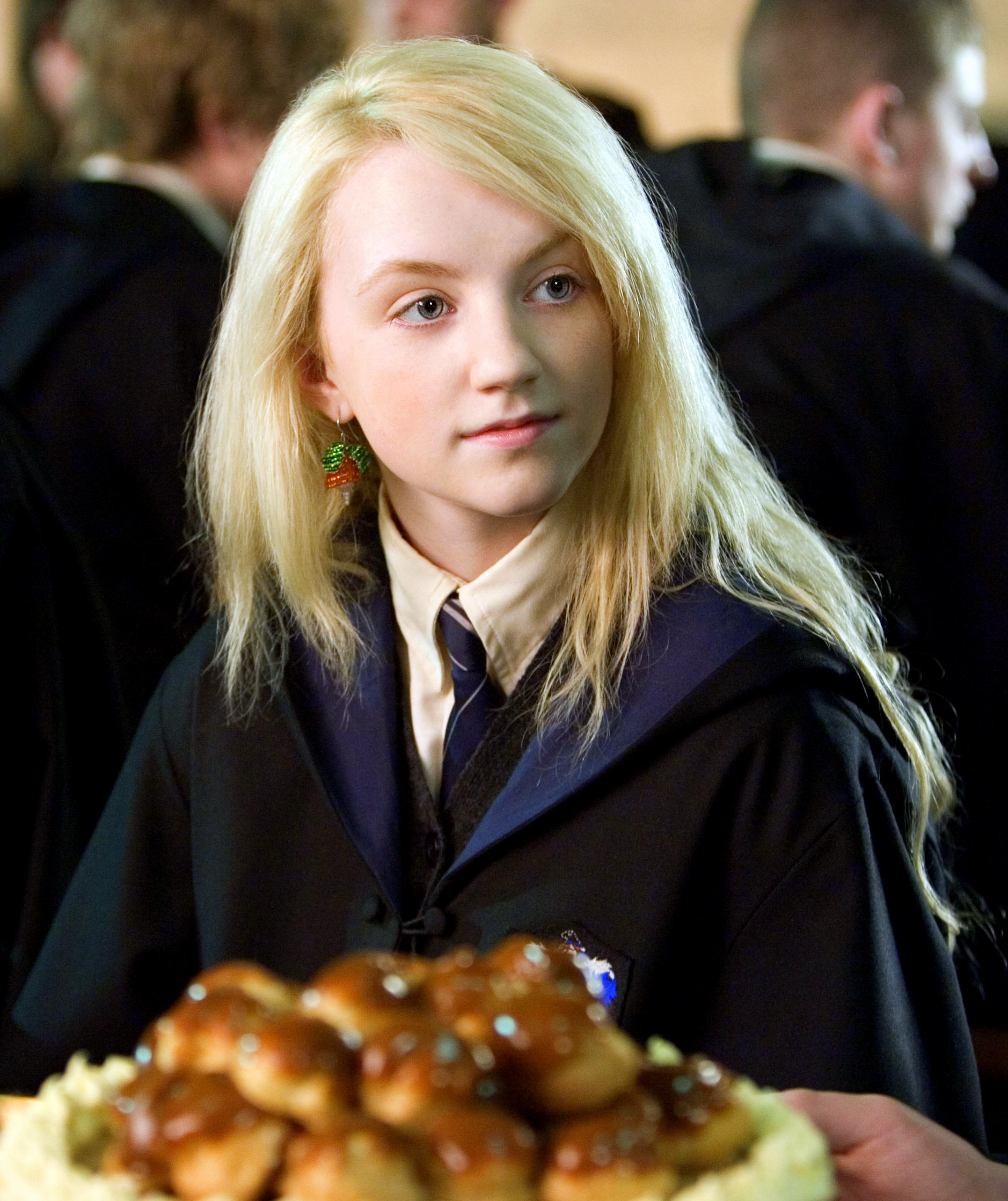 Luna Lovegood is an unusual girl. She's dreamy, always says weird stuff which not everyone around her understands, and happens to love anything that is different or a minority. She also seems to be right most of the time, by the way (again, I sounded stuck up)! This is a HUGE resemblance in personality which I share with Luna. To the point to which people in high school would call me "Luna" because I reminded them of her. I never took it as an insult. I like being a little crazy, within reason of course! Luna has always been the "odd one" in the group, but this never seems to bother her. I like that about her and can completely relate.
Luna Lovegood
Luna has a uniqueness that just makes you love her. She's sweet but she also has that side to her which shows she's wise. I think that she would definitely translate that into the way she dresses. So I picked out a pair of gold, sequined shorts which I consider no one else but someone like her would wear to school. A nice, soft pink sweater with a bunny picture on it, because Luna's Patronus is a hare. White creamy tights to keep herself warm and a pair of pink Hunter's rain boots for walking in the puddles around the Forbidden Forest. I added a gold, sleek bracelet with a moon-shaped charm. It's a moon because Luna means Moon in Spanish (my native language, ha!). I
HAD
to tag along a copy of The Quibbler, and
OF COURSE
, her spectrespecs!
Hermione Granger is perhaps the one of the three girls which most people relate to. But, I do think I resemble her in many ways. Hermione is an extremely clever girl. She's highly logical and when she puts her mind to it, can solve
ANYTHING
. She's a hard worker too. I do consider myself smart, but the one thing I love about Hermione and see mostly in myself is that she is a very loyal and true friend. She also has a big heart; many times Hermione loves too much. Which is why I think she winds up crying in so many chapters through the books. She is sensitive and expresses her feelings while being strong for her loved ones. Not only is she intelligent, she has a rather tender heart, and that is one of best things a person can have.
Hermione Granger
For Hermione, I decided I would take the classy/preppy route when it comes to style. I personally love this look for her. A cashmere, white sweater with a peplum accent for the top. And a pair of mint-green skinny jeans for the bottom part. For her shoes, I chose a pair of tan colored oxfords, which give the rest of the outfit a library-esque feel. As Hermione infamously spends much of her time in the library. Pearl stud earrings (CLASSY!) and I thought it'd be nice that she'd be sporting her Time Turner around her neck! Hermione is nothing without her books, AND her first real ginger sweetheart (cough, cough not Ron!) CROOKSHANKS!
I personally had so much fun writing this post, maybe because I'm fond of both the characters/series
AND
fashion! Did you like the outfits I came up with? Which Harry Potter character is your favorite? What other characters would you like to see in these posts?
*kisskiss* - Adrienne.